No.1 NCP-008B Full automatic NC punch(60T with double-end dies)
(1)Automatic feeder
(2)NC conveying table
(3)60T punch
General situation:this unit equipped with 60t punch and double-moulds is used to punch the screw cap into shape which consists of automatic feeder, NC conveying table, NC punch, automatic waste discharger, controled by PLC.
No.2 GX-30GLX Curling and knurling machine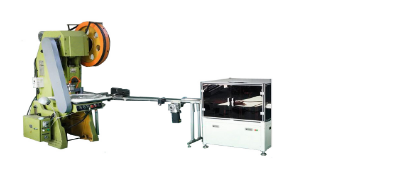 General situation: this machine is used for curlng, knurling, screw-rolling of screw cap.
No.3 Glue-injection and drying line
General situation: this line is used for glue injection and drying for metal caps.